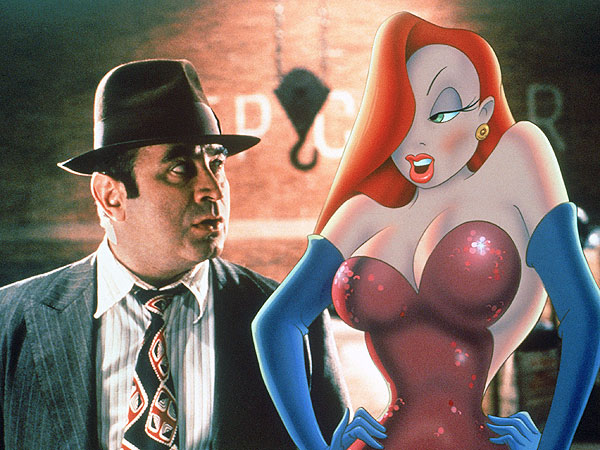 Bob Hoskins, with Jessica Rabbit, in 1988's
Who Framed Roger Rabbit
Bob Hoskins, who has entertained audiences in lovable mug roles for some four decades, has been diagnosed with Parkinson's disease and is retiring from acting, the 69-year-old announced through his agent on Wednesday.
"He wishes to thank all the great and brilliant people he has worked with over the years, and all of his fans who have supported him during a wonderful career," said the rep's statement, according to a
BBC report
.
"Bob is now looking forward to his retirement with his family," the statement continued, "and would greatly appreciate that his privacy be respected at this time."
In addition to his wife Linda, Hoskins has four grown children from his two marriages.
Best known as a scene-stealer in such films as
Mona Lisa, The Long Good Friday, Cotton Club
and
Who Framer Roger Rabbit
, Hoskins grew up in working-class London, the son of a bookkeeper and a school cook. He quit school at 15 and for 10 years did odd jobs, including fire-eater and a stint on an Israeli kibbutz.
Then one day in 1968,
PEOPLE reported in 1984
, Hoskins was drinking in the bar of London's Unity Theatre. Two sheets to the wind and ready for anything, Hoskins traipsed upstairs and was handed a script.
That was his lucky break: Hoskins began to read the leading role – which he landed, a twist of fate that eventually propelled him from touring Shakespeare companies to London's West End to movie studios in England, Europe and Hollywood. He's appeared in more than 70 films.
His most recent, and apparently final, screen appearance was in this year's
Snow White and the Huntsman
, opposite
Kristen Stewart
.
Hoskin's announcement closely follows that of another legendary British actor, Peter O'Toole, who
last month said
that he is retiring from his profession, although he did not disclose the reason why.