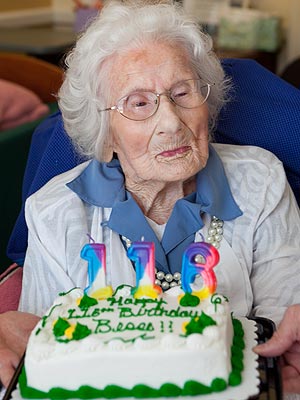 JESSICA MCGOWAN/GUINNESS WORLD RECORDS
Besse Cooper had a lot of candles to blow out this weekend.
On Sunday, Cooper, certified by
Guinness World Records
as the world's oldest living woman, celebrated her birthday at the Monroe, Georgia, nursing home facility where she resides. She turned 116.
"I mind my own business," the Sullivan, Tenn., native, born in 1896, said is her secret to longevity. "And I don't eat junk food."
Cooper is only the eighth person in the world, and only the fourth American, to reach that age, says Guinness.
She arrived in Monroe during Word War I and worked as a teacher. Marrying husband Luther in 1924 (he died in 1963), she had four children. Today she has 12 grandchildren and even more great-grandchildren and great-great grandchildren.
"The older she has gotten the more wittier she has gotten," her son, Sidney Cooper, told the local paper, the
Walton Tribune
at the site of a bridge named for her.
Polly Gasstrom, mayor of the small town of Between, where Cooper had taught (and the site of the bridge), said, "Besse is such a sweet woman. I have had a chance to talk to her, hear her stories, and if we are going to be put on the map, she is a great reason."
Said Besse in absentia, as she couldn't attend the ribbon-cutting ceremony: "I'm glad I gave them a reason to name it."